Block Watch
Block Watch is a neighbour helping a neighbor. Families on a block form a communication chain aided by a block map of names, phone numbers, email and home addresses. They watch out for each other's homes and report suspicious activities to the police and each other to reduce the likelihood of residential crime.
Block Watch also provides:
Tips on how to better secure your home.
Information on how to mark your property.
Protective window stickers.
Crime prevention strategies for your area through a free newsletter.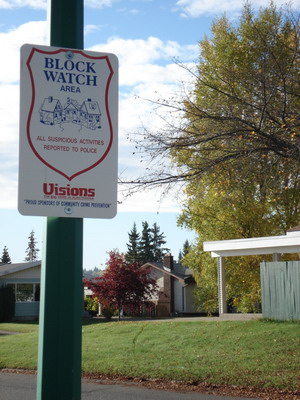 Block Watch is a proven, effective method of crime prevention. Education is the most important component in the effort to remove the opportunity for crime. It is through education that the community members learn how and why to target harden their homes, vehicles and selves, as well as the reasons and skills for marking property. It is only through education that the public can become valuable sources of information through observation and reporting skills.
For more information on Block Watch please contact Community Policing at (250) 561-3366.