Crime Prevention through Environmental Design (CPTED)
The proper design, effective use and maintenance of the built environment can lead to a reduction in the incidence and fear of crime, and an improvement in the quality of life.
The key concepts of CPTED are:
Natural Access Control - Guiding pedestrian to and from spaces by utilizing real and psychological barriers;
Natural Surveillance - Placement of physical features, land uses, activities and people in such a way as to maximize visibility;
Territoriality - Physical design can contribute to a sense of territory;
Maintenance - Providing efficient maintenance of space to ensure natural surveillance; natural access control and territoriality are maximized.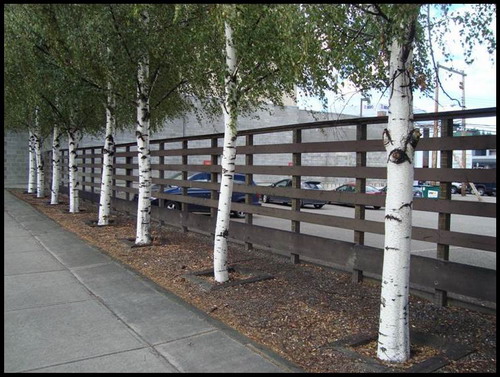 Image of some trees and a fence after being designed with Crime Prevention Through Environmental Design principles
Over time we have inadvertently created opportunity for nuisance and criminal behaviour by poorly designed spaces (i.e. buildings, parks complexes, etc.) If we implement CPTED strategies in the planning phase we maximize the ability to keep crime and nuisance behaviour at a minimum. Together thoughtful design features and effective use of physical space can reduce opportunities for crime. However, in order to create more sustainable crime prevention, community involvement and a collaborative community effort is required.
Community Policing provides CPTED evaluations of buildings, areas, spaces or homes, in addition to educational sessions. For more information please call (250) 561-3366.