New Year's Eve take-down yielded drugs, cash and loaded firearm for Kelowna RCMP
Kelowna
2022-01-14 16:09 PST
File # 2021-76539
Kelowna RCMP had a happy new year when they conducted a drug take-down seizing drugs, cash and a firearm on New Years Eve.
On November 21, 2021, the Kelowna RCMP began an investigation into a drug trafficking operation occurring at a hotel in the 1500-block of Highway 33 in Kelowna. Throughout the investigation, officers learned the suspect was trafficking drugs out of his hotel room. The suspect was operating a drive-thru of sorts where in some instances, customers would drive up to the room, remain in their vehicle, and the suspect would sell them drugs through their car window.
On December 31st, 2021, Kelowna frontline officers, with assistance from the Drugs and Organized Crime Section and Police Dog Services, executed a search warrant on the hotel room. Officers seized 2.5 ounces of methamphetamine, 2 ounces of fentanyl, 1.5 ounces of crack cocaine, and $4100.00 in cash. Officers also seized a loaded handgun during the search.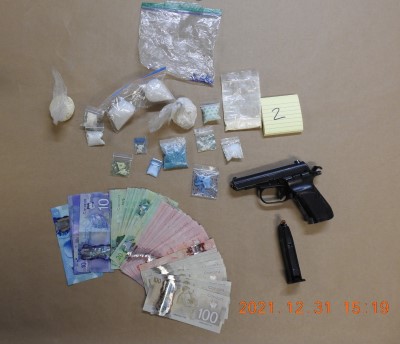 The amount of fentanyl seized during this investigation equates to over 500 lethal doses, states Sgt. Desmond Kiehlbauch of the Kelowna RCMP Drugs and Organized Crime Section. Our officers have prevented a significant quantity of dangerous and highly-addictive drugs from getting to our streets.
The suspect, a 45-year-old man, was arrested on scene without incident. The following charges under the Criminal Code and the Controlled Drugs and Substances Act will be recommended to Public Prosecution Service of Canada:
Possession of a Controlled Substance for the Purposes of Trafficking
Unauthorized Possession of a Restricted Weapon
Possession of a Restricted Weapon with Ammunition
Released by

Cpl. Tammy Lobb

Media Relations Officer
Kelowna RCMP
1190 Richter Street
Office: 778-940-2430
Cell: 250-859-2065


Email: Kelowna_Media@rcmp-grc.gc.ca
Website: kelowna.rcmp.ca

Follow Us: