Community helps make Holiday Food and Toy Drive Successful
Whistler
2022-12-20 14:35 PST
The community of Whistler overwhelmingly showed its support for Sea to Sky RCMP Whistler's Holiday Food and Toy Drive event.
On December 15, 2022, Sea to Sky RCMP Whistler's yearly event returned, hosted at Fresh Street Market. Community responded to calls to donate food, toys, gift cards, and cash, filling a police cruiser full of these goods that will help fill the hearts of many over the holidays.
Multiple partners helped make this event successful, including the Resort Municipality of Whistler, Fire Rescue, BC Ambulance, Whistler Community Services Society (WCSS), Safety Bear, and Santa himself. The event, close to her heart, was led by Staff Sergeant Sascha Banks, Sea to Sky RCMP Whistler.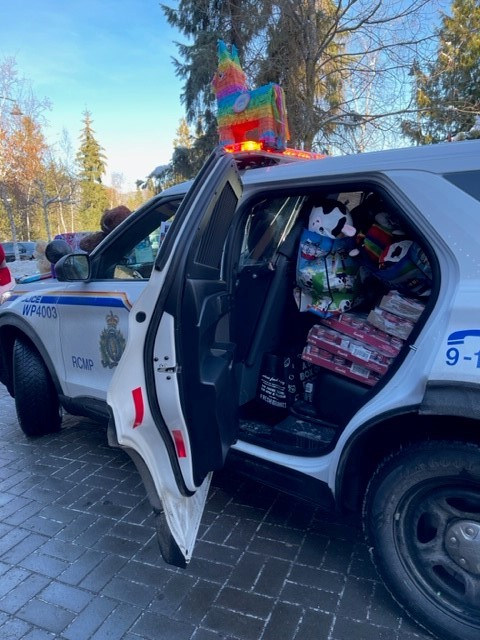 Thanking participants and those who donated, Jackie Dickenson, Executive Director at WCSS says Thank you so much for your support to raise funds, food, and toys for community members in need. I witnessed first hand how supported and stoked our staff were to receive these items, and most importantly got to see families receive much needed items.

Whistler RCMP asks anyone with any information regarding any file to contact the local detachment at 604-932-3044, or, contact Crime Stoppers at 1-800-222-TIPS, or go to

www.solvecrime.ca

Released by

Cpl. Angela Kermer

Media Relations Officer
Sea to Sky RCMP
Office: 604-892-6137
Cell: 604 848-4793


Email: bcrcmp-grcencb@rcmp-grc.gc.ca


Follow Us: