Police looking to identify suspect in weekend stabbing
Prince George, Can You Identify
2023-03-06 15:34 PST
File # 2023-6784
On Saturday, March 4, 2023, shortly after 6:00 p.m., Prince George RCMP attended a business on the 600-block of Quebec Street, for a report of a man at that location who told staff he had been stabbed.
When police officers arrived at the location they located the 38-year-old victim inside the building; the man was transported to the hospital for treatment of his injuries.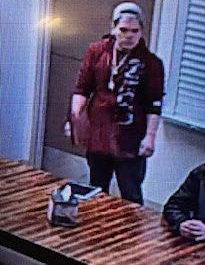 Investigators are looking to the public to help identify the suspect in this investigation. Surveillance video shows the assault happening at approximately 5:50 p.m. near First Avenue and Quebec Street. The suspect is seen wearing a red hoody, dark coloured pants, and a grey hat with a red bandanna under the hat. If anyone can identify the suspect they can speak with a police officer by calling the Prince George RCMP non-emergency line at 250-561-3300, states Cpl. Jennifer Cooper, Media Relations Officer for the Prince George RCMP.
Police are also looking for anyone with video surveillance or dash camera footage that may have caught the suspect coming or going from the area around First Avenue and Quebec Street near 6:00 p.m. on March 4.

The investigation is ongoing.

If you have any information about this or any other criminal offence, please contact the Prince George RCMP at (250)561-3300 or anonymously contact Crime Stoppers at 1(800)222-8477 or online at www.northernbccrimestoppers.ca (English only). You do not have to reveal your identity to Crime Stoppers. If you provide information that leads to an arrest or recovery of stolen property, you could be eligible for a cash reward.

Consider registering your home or business surveillance system with the City of Prince George's CCTV registry. For more information, visit the City of Prince George website at www.princegeorge.ca/cctv (English only).

Released by

Cpl. Jennifer Cooper

Communications NCO / Media Relations Officer
Prince George RCMP
455 Victoria Street, Prince George, BC, V2L 0B7
Office: 250-561-3300


Email: pg_media@rcmp-grc.gc.ca
Website: princegeorge.rcmp-grc.gc.ca

Follow Us: